From: Justice Integrity Report
---
by Andrew Kreig 13 Mar 2019 03:25 AM PDT
The massive coverage of former Trump Campaign Manager Paul Manafort's tax and bank fraud scandal during recent days has so far missed almost entirely one of its most shocking and important aspects.
How did
Manafort
(shown as campaign managerin 2016) get away with such brazen tax evasion and other corruption for so many years?
Manafort's years of corruption were part of a scandalous breakdown by the U.S. Department of Justice in prosecuting wealthy and other otherwise politically influential criminals.
But at long last, Manafort's remarkable greed exposed him to some of the many honest investigators within the department, who have been empowed by Special Counsel Robert Mueller's prosecution of larger Trump campaign and administration scandals.
Manafort, 69, is a Connecticut-reared and DC-educated, consultant and fixer who spent decades helping prominent Republicans, as well as some of the world's most horrific foreign dictators, and their supporters.
The mission? To win office, reap the fruits of power, and then hide the tens of millions of dollars in loot from taxing authorities for the benefit of insiders, most relevant Manafort.
Manafort's 47-month prison sentence in Virginia's federal court March 7 on corruption charges was a sweetheart deal from a judge of highly dubious integrity compared to the scope of Manfort's crime and lack of repentence.
That prompted widespread criticism of the sentencing judge, Senior U.S. District Judge T.S. Ellis, as exemplified in our own commentary in
GOP Judge Disgraces Federal Bench In Manafort Sentence, Hearing
.
The breakdown in the nation's federal justice goes far beyond the "
revolving door"
whereby Manafort's lead defense attorney, Kevin Downing (shown at left), had been a top Justice Department prosecutor supposedly fighting hard against the kinds of tax frauds that Manafort was committing for years at the same time.
Today's report, which includes an exclusive albeit brief interview with Downing, shows that the defense counsel and some of his Justice Department peers had a wider record of coddling well-connected criminals that, fortunately for the public, is beginning to prompt some scrutiny.
At the same time, Downing and the now-notorious former U.S. attorney in Miami Alexander Acosta (a presidentially appointed position supervising that drug-infested and otherwise corrupt region) also prosecuted former United Bank of Switzerland (UBS) banker Bradley Birkenfeld, one of the nation's major whistleblowers against higher-ups committing the kinds of financial crimes so attractive to Manafort.
More recently, two members of Congress, former prosecutors Ted Lieu and Kathleen Rice, both Democrats, have called for a New York Bar Association probe of Downing for his alleged improper liaison work between Manafort and the Trump administration after his client's guilty plea last September.
That arose from Manafort's deceitful and unremorseful liaison with Trump administration lawyers (most likely to curry favor for a Trump pardon that would constitute obstruction of justice) after Manafort pleaded guilty to federal charges last September and promised to cooperate with authorities.
U.S. District Judge Amy Berman Jackson, right, presiding over Manafort's federal guilty plea in the District of Columbia, is scheduled to sort through this mess in a sentencing hearing schedule for the morning of today, March 13. The big question looming is whether she will impose a concurrent sentence to the one imposed by her Virginia counterpart, Ellis, or will order Manafort to serve additional time, which could be up to 10 additional years under his plea agreement.
Downing, the lead defense attorney and former prosecutor, has denied any misconduct, including during a brief, exclusive interview with the Justice Integrity Project shortly after his client was sentenced last week.
How Tax Cheats Hurt The Public
The harm that massive tax avoidance by elites and major criminals cause the public is much in the news these days, as evident to anyone who cares to look.
News reports
last month indicated that Amazon.com paid no corporate income tax in 2018 on profits of $11.2 billion, the second year in a row that Amazon.com had paid no federal income taxes.
"Thanks to the new Tax Cuts and Jobs Act (TCJA)," wrote Kristin Muders for Yahoo Finance, based on a report from the Institute on Taxation and Economic Policy, "Amazon's federal tax responsibility is 21% (down from 35% in previous years). But with the help of tax breaks, according to corporate filings, Amazon won't be paying a dime to Uncle Sam despite posting more than $11.2 billion in profits in 2018."
The company, reportedly the favorite to win a $10 billion U.S. Department of Defense computing contract soon, has grown so fast that it continues to devastate competitors. These include "brick and mortar" retailers such as Sears Roebuck that have long supported the public via local, state and federal taxes.
In 2013, Amazon.com received a $600 million contract from the CIA to help the agency's cloud computing. Although Amazon.com and has reported in timely fashion these contracts and potential contracts it is far from clear that the aaverage American understands the full implications, in part because Amazon.com is such a powerhouse in the media world.
We simply say it here: that's a remarkable amount of data, including almost all of our book and other purchashing preferences, to go to entity, however benigh, that is so connected with state power and the rest of the mlitary-intelligence complex. But what will be will be, as they say.
Dr. Rutger Bregman, a Dutch economist and author of the book
Utopia for Realists
, created headlines at this year's annual World Economic Forum in Switzerland in January by challenging the Western elites in attendance to understand that "tax avoidance," both legal and illegal, causes great harm to the public.
"The 'T' word is really the forbidden word in places like Davos," he told
Australia's ABC News
afterward. "You can talk about anything [at Davos] — about education, about feminism, about climate change — as long as you don't talk about higher taxes on the rich."
The Washington Post, owned by Amazon.com founder Jeff Bezos, expanded on Bregman's views and experience in a news report about his decision to discuss the uncomfortable topic of taxation after he arrived for the conference in Davos, the small town in the Swiss Alps where the conference is held.
"I had this uncomfortable feeling," Bregman said in a
phone interview
with Post reporter Eli Rosenberg. "Could I really talk about my book and basic income but not address the elephant in the room?" Bregman continued, as quoted in the newspaper's report:
The elephant was the issue of taxes, or, more specifically, how wealthy people around the world work to avoid paying them, Bregman said. The issue has shot to international prominence in recent years after disclosures such as the Panama Papers, amid tensions over rising levels of global inequality. And it has galvanized the political conversation in the United States after a congresswoman from Queens — perhaps you can guess which one — floated the idea of returning the United States to a country where incomes above $10 million were taxed at high rates.
But Bregman believed there wasn't enough discussion about the topic of taxation at Davos.
"I mean 1,500 private jets have flown in here to hear Sir David Attenborough speak about how we're wrecking the planet," he said. "I hear people talking the language of participation and justice and equality and transparency. But then almost no one raises the real issue of tax avoidance. And of the rich just not paying their fair share. It feels like I'm at a firefighters conference and no one is allowed to speak about water.
More recently this week, President Trump's proposed annual federal budget calls for nearly $900 million in Medicare cuts over the next decade, thereby breaking his campaign promise to protect that and related "safety nets."
Trump's goal presumably is to help pay for the tax cuts that he and fellow Republicans pushed through in late 2017, which were widely criticized as budget-busters that disproportionately benefited the ultra-rich and provided only modest, short-term benefits for most other U.S. taxpayers and citizens.
Manafort's Crimes
Paul Manafort, the former Trump campaign manager, was caught hiding $55 million in income for years from tax authorities, as indicated publicly first by a 12-count federal indictment in October 2017 brought by Mueller's office in its investigation of Manafort's consulting work that focused on helping pro-Russian political figures in Ukraine.
In trouble,Manafort hired Downing as his lead defense attorney. Downing had previously worked until 2012 as a senior litigator in the DOJ section that specialized in tax fraud cases, presumably including the biggest fraudsters like Manafort and his allies.
Manafort's years of financial crimes had begun in 2005-2006 according to an expanded 32-count indictment that federal authorities brought in February 2018 against Manafort and his longtime junior partner,
Rick Gates
. Gates had begun his political career as an intern with a predecessor Manafort consultancy in the late 1980s. Black, Manafort and Stone had featured among as its top top executives Manafort, GOP consultant Charles Black and Roger Stone, a former Nixon White House aide who was already a close friend of Trump and who became a legendary GOP fixer and dirty tricks specialist through the decades.
More recently, Gates advanced from being Trump's deputy national campaign manager in 2016 to winning appointment as deputy chairman of the Donald Trump Inaugural Committee, which raised more than $100 million, by far the largest sum in history for a U.S. inauguration. The Inaugural committee, however, is under investigation by authorities because of suspicions that funds disappeared for an event that was far smaller than for previous presidents in terms of public events while sucking up such huge contributions.
"Manafort and Gates generated tens of millions of dollars in income as a result of their Ukraine work," said the federal
indictment
, which has resulted in admissions of guilt by both Manafort and Gates. In September, Manafort pleaded guilty to just two counts but admitted separately his guilt in all offenses charged by Mueller's team.
"From approximately 2006 through the present," the indictment said, "Manafort and Gates engaged in a scheme to hide income from United States authorities, while enjoying the use of the money."
Evidence during the Manafort trial in Virginia show ed that he had a remarkably brazen scheme to work for free as campaign manager with his partner Gates, and then more than make up any lost salary by selling influence to those who waned to cash in from Manafort's connections to Trump. Thus Manafortwon a $16 million loan with phony documents from a Chicago banker who waned to be eithe U.S. Secretary of the Army ( the preferred position) or some other cabinet or ambassadorial position, all because of granting Manafort the $16 million in an undeserved loan..
Manafort, Gates and to some extent the Manafort attorney Downing thus examplify of the pervasive rotation of officials between government and the relevant private sector. But that is just part of our story.
We'll show below how Downing and U.S. Secretary of Labor Alexander Acosta played key roles in criminally prosecuting (and thereby protecting their own careers) former UBS banker Bradley Birkenfeld, a major whistleblower against the secret Swiss banking, tax fraud and money laundering operations typified by UBS and other large Swiss banks.
Acosta. left. was U.S. attorney for Miami and Birkenfeld's chief prosecutor when the banker tried to alert U.S. authorities in the 2005-2006 time period to massive tax cheating by UBS clients, including some extremely connected in relevant politics.
More broadly, we'll reveal in Part II of this two-part series how another high-profile court proceeding last week also showed how Acosta's "revolving door" issues has led him to a central role in the ongoing scandal involving the billionaire Jeffrey Epstein, to whom Acosta granted a sweetheart plea deal in 2006 in a sex trafficking plot targeting underage girls.
Most remarkable in that Epstein plea deal was that Acosta agreed not to prosecute or even name Epstein's accomplices and friends, including Trump, former President Bill Clinton and Prince Andrew of the British Royal Family. Acosta made that remarkable agreement with elite defense
attorneys even though local police and others had documented allegations that Epstein and his accomplices were sexually involved with scores of teenage girls, some as young as 12 or 13, with many recruited from Palm Beach-area junior high schools and high schools for ostensibly innocent work giving him back-rubs at his mansion,
Virginia Roberts Giuffre, shown at right, filed a lawsuit claiming that she was a former towel girl at the Mar-a-Lago resort, located a mile from Epstein's sexual lair, when Epstein and his accomplices inveigled her at age 16 to become a sex slave serving him and his prominent friends, including a member of Britain's royal family.
Last week, her attorneys argued in New York City's federal appeals court for release of sealed documents that she and others claim would document how she and others were treated as sex slaves. A majority of the judges have ordered release of most of the records, reputed to incude more than a thousand documents.
The Manafort Sentencing In Virginia
During Manafort's sentencing in Virginia, the presiding judge Ellis (shown in a file photo at left) voiced nostrums about how the massive evidence of tax and bank fraud that had unfolded during trial illustrated that such crimes hurt the public.
The harm, obviously, is that if the wealthy do not pay taxes
then others must either pay higher rates or else vital services must drop.
But Ellis lived up to his reputation as a law-and-order "conservative" who provides lenient sentences to white-collar defendants who steal millions but cover their tracks by hiring the best lawyers and pleading for sympathy.
In Manafort's case, the dfendant and his attorneys repeatedly suggested in court and to the public that Manafort, Trump's former campaign chairman in 2016, was being prosecuted for political reasons by the Republican Mueller to target President Trump and fellow Republicans in his campaign -- and that Manafort in particular deserved sympathy for such reasons as his concern for his family and his recent health problems, which were incurred during his pre-trial confinement in Alexandria. etencing,
The judge. Ellis, repeatedly noted his sympathy with some of those Manafort claims, both during early stages of the trial and during the three-hour sentencing hearing.
Remarkably, though, the judge did not press Manafort (shown in a mugshot) for an apology for his conduct or describe for the media and activist citizens in the courthouse such other relevant factors as the collosal threat that Manafort's conduct, revealed both in Virginia and elsewhere, posed to the functioning of a democracy.
Ellis made the stunning statement, for example, that Manafort had lived a "blameless" life aside from his proven crimes.
By contrast, judges often criticize defendants and give extra prison time for abuse of public trust, as Ellis himself did in ordering a 13-year sentence for former U.S. Rep.William Jefferson.
Jefferson was an African-American Democrat from New Orleans convicted of financial corruption in an amount far less than Manafort's in terms of either dollars or threats to the American political system. Further, the judge made no reference to Manafort's long career helping corrupt and ruthless dictators, including several accused of mass murders or torture.
After the hearing, Downing gave a brief statement to the media outside the courthouse in which he asserted that Manafort's assertion was vindicated because, in a remrkable pattent next toparrot a Trump term, no "collusion" had been proved.
Suffice for now to say each of those arguments is dubious at best. The judge had forbidden significant evidence of collusion, which was largely the focus of the District of Columbia proceeding and, presumably, the still-pending report and investigation of Mueller.
One Manafort juror, Paula Duncun has stepped forward also to identify herself as a strong Trump supporter who nevertheless found the evidence against Manafort overwhelming as she voted for conviction on all 18 felony counts against Trump's former campaign manager, who was convicted on eight of the counts.
She said the verdict was 11-1 for conviction on the remaining 10 counts in Virginia, with the only holdout a fellow Trump supporter resistant to conviction.
Ellis also is a Republican, appointed by President Ronald Reagan in 1987 to preside in the Eastern District of Virginia, based in Alexandria.
RFeporter Connects DotasInvestigative reporter Wayne Madsen has published a more speculative and sinister -- but still plausible -- explanation. It goes beyond the judge's political party status for the Ellis sentence and the judge's apparent sympathy for Manafort and Trump-style arguments.
Madsen, a syndicated columnist and former Navy intelligence officer and NSA analyst, published last week on the "Wayne Madsen Report" subscription service,
Judge T. S. Ellis is a veteran Iran-Contra scandal cover-up jurist
.
Re[orter DiogsDee[
Wayne Madsen, (left), is the author of 16 books, including two about CIA operations. One is a 400-page encyclopedia of CIA fronts, partners,
proprietaries whose cover is shown at right. He wrote of Ellis last week in an opinion column:
Ellis was placed on the Alexandria, Virginia bench to influence what was expected to be a number of trials involving Iran-Contra figures indicted for their involvement in the guns-for-narcotics-for-cash scandal that almost brought down the Reagan administration.
The federal court in Alexandria traditionally handles cases involving the Central Intelligence Agency and is known as a "rocket docket" for quickly shotgunning such cases, many of them embarrassing and politically-sensitive, through the legal system, with as little as possible publicity.
Ellis, who was born in Bogota, Colombia, was nominated by Reagan on July 1, 1987. He was confirmed by the Senate on August 5, 1987.... During the 1980s and concurrent with the Iran-Contra affair, Manafort's company, Black, Manafort, Stone & Kelly (BMSK), was involved in propping up dictators in countries where the CIA was also active.
Ellis can be summed up as follows: "born in Colombia and raised by the CIA."
On The Other Hand: A Defense Of The Defense
It's the fair thing to do at this juncture to provide the perspective of the targets of this column, even though it is for the most part an opinion column based on this editor's reporting, including first-hand coverage of Manafort's trial and sentencing in Virginia last week.
Regarding the "revolving door," that is a widspread practice that extends far more widely than Manafort's defense team. Jackson, the sentencing judge Wednesday, for example, also spent years as a criminal defense attorney between her service as a federal prosecutor and her appointment to the federal bench.
Many commentators would persuasively argue also that service in the private sector provides invaluable expertise that is useful and arguably necessary for public service, and that taxpayers could not afford to hire cable professionals -- especially with tax avoidance strategies so widespread as now -- if government workers could not have the option of moving to the private sector, which is typically better paid.
Regarding more specifics of the Manafort case, the full history and motivations of a federal judge are typically cloaked in mystery, especially one who was approved for a lifetime appointment by a unanimous voice vote in 1987 like Ellis with no controversy (or digging).
As for Downing, he answered several relevant questions when I approached him privately after the Manafort sentencing. His willingness to answer contrasts with his stern and clipped public demeanor, whereby he typically avoids any comment or provides only the briefest of statements.
I'll save the details for below but preface them with the opinion that reporters too have many biases and pitfalls, with one being a certain sympathy for news sources who grant us access with an exclusive interview or even a brief comment in a competitive news-gathering situation.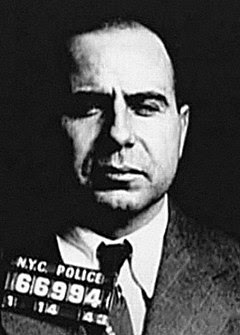 Thus I retain a warm remembrance even for the late and notorious New York superlaywer Roy Cohn, left, a mentor, attorney and close friend of Donald Trump among others.
That's because Cohn gave me an exclusive comment on deadline once when I was writing a newspaper story about his client
Carmine "The Cigan" Galante
, right, the murderous underboss of the Bonanno Family before Galante's mob-style shooting in 1979 by rivals within New York's five Mafia families.
Massive Tax Cheating and Sex Trafficking
One vital remaining piece of background for this overview, briefly referenced above, involves another major case involving Downing and a separate case also supervised by Acosta, the former Bush Administrion U.S. attorney for Miami whom Trump nominated in 2017 to become the current U.S. Secretary of Labor.
In 2016, we recounted the story of a noted in a column
Courageous Memoir Denounces Banks, Justice Dept. Corruption
. It began:
Famed bank whistleblower Bradley Birkenfeld launched his tell-all memoir
Lucifer's Banker
last week at the National Press Club with a harsh
indictment of the nearby headquarters of the U.S. Justice Department.
Birkenfeld, described earlier this year by CNBC as "the most significant financial whistleblower of all time," attacked law enforcers as being cowardly, self-seeking and deceitful in monitoring white collar crime. The schemes help the wealthy hide money, sometimes ill-gotten, and thus may hurt the criminals' spouses, business colleagues, fellow citizens, and governments.
Birkenfeld (shown in a graphic illustrating his memoir) states that he stepped forward voluntarily to alert federal authorities to massive money laundering and tax fraud by wealthy U.S. customers via UBS but that officials were too frightened of the banks and their elite criminal customers to mount meaningful criminal prosecutions.
Instead, Birkenfeld alleges, Justice Department prosecutors turned on him and obtained a three-year prison term even though he was the one bringing forth the evidence. There's much more he has to say but for current purposes the major villains in his book are Downing, then a senior litigator at the Justice Department, and Acosta.
Birkenfeld is bipartisan in his criticism, and frequently casts aspersions also on former President Obama and his attorney general, Eric Holder, for close and (in the whistleblower's view) compromising ties with top-ranking UBS executives who supported Obama's campaign and patronized Holder's longtime law firm, Covington and Burling.
Birkenfeld, a native of Massachusetts, says he learned only after his prosecution that a new federal law enabled him via his attorneys at the National Whistleblower Center to apply for rewards in recognition of information that he gave the U.S. Internal Revenue Service. Those tips resulted in more than $15 billion in recoveries of taxes and penalties from tax cheats, reputed to be the largest haul in history for the U.S. government via whistleblowering. Birkenfeld received more than $100 million in reward payments, pre-tax.
He claims credit also for a major role for his disclosures helping reform Switzerland's secret banking system. The result? Governments worldwide, he says, are better able to collect appropriate taxes and monitor the criminal behavior (often drug and arms smuggling and theft from corporations and government) that allowed white collar criminals to hide their havoc.
Acosta's office lead the trial prosecution of Birkenfeld. But Acosta is much in the news also this month for criticism of his sweetheart plea deal allowing the multi-millionaire Jeffrey Epstein receive a lenient sentence for sex crimes.
We'll explore that story in a separate column. For current purposes, however, it fits the pattern of a revolving door, particularly because Acosta's plea deal exonerated exemptedTrump among others from investigation and Trump went on to reward Acosta with the Labor Department cabinet position.
The Labor Department, conveniently, is the main federal agency monitoring sex trafficking. Currently, a major sex trafficking scandal is percolating in the Palm Beach-Jupiter wealthy environs of Mar-a-Lago because of the recent arrests of sex traffickers. Among the notable figures is Li "Cindy" Yang, the founder and former owner of a chain of implicated massage parlors. Yang has been revealed to be running a new business placing herself and customers close toTrump, his family and other prominent Republican officials.
Acosta, Yang the implications of their past will be the topic of a future column, here and elsewhere.
Downing Responds
After Manafort'ssentencing in Virginia, I found his attorney Downing relaxing at a nearby restaurant with several friends. It's not necessarily good etiquette to approach an attorney who has repeatedly and sternly declined comment just moments before to large numbers of reporters massed outside the courthouse.
But being a reporter is not necessarily a dignified calling and perhaps it should not be in such circumstances.
Whatever the case on that, I asked Downing, who stands about 6-foot five, why his tam at the Justice Department had not caught Manafort more than a dozen years ago.
"That's a good question," responded, before amplifying, "We did catch about 13,000 others."
Regarding Birkenfeld's complaints, Downing said, "His three-year sentence reflected leniency because of his cooperation."
It wasn't the time or place for an extended discussion. But this reporter remains grateful for the opportunity to present these important viewpoints.
What's Fair For Manafort?
Looking ahead, a broad debate has arisen has occurred over whether Ellis was being too lenient with Manafort. Here are two examples from the Washington Post:
Is Paul Manafort's sentence too light? He fared worse than many fraudsters, data shows, Justin Jouvenal, Julie Tate and Rachel Weiner, March 9, 2019 (print ed.). U.S. District Judge T.S. Ellis III surprised many when he departed from federal sentencing guidelines in Manafort's case. But the average prison sentence in similar bank-fraud cases was about 31 months.
Manafort gets far less prison time than sentencing guidelines call for, Rachel Weiner, Lynh Bui, Justin Jouvenal and Devlin Barrett, March 8, 2019 (print ed.). Paul Manafort, who once served as President Trump's campaign chairman, was sentenced to nearly four years in prison Thursday for cheating on his taxes and bank fraud — a far lesser sentence than the roughly 20 years he had faced under federal sentencing guidelines.
Much more information on those matters is scheduled for the hearing on March 13, as the Post also reported:
U.S. District Judge Amy Berman Jackson, set to decide Wednesday whether she will add prison time for Manafort, is the same judge who was recently in the spotlight for the Roger Stone case (being prosecuted by Special Counsel Robert Mueller's team).
She comes primed for her role by three decades as an attorney and judge dissecting sensitive political corruption and white-collar criminal cases in the nation's capital.
Stage Is Set March 13 For Manafort, Mueller, Downing and Berman
Manafort's sentencing is scheduled for 9:30 a.m. (EDT) on Wednesday at the federal courthouse in Washington, DC. This reporter plans to be there, as in the past.